camin aktion is a creative producing, international booking and artistic development agency, founded in 2009*.
The team is made up of Dirk Korell (senior producer & dramaturge), and junior producers Leticia Martín and Naïs Haidar.
Our office is situated at Halle Tropisme, in the heart of the new creative district in the city of Montpellier, at the coast of the Mediterranean. Partner of companies and presenters, we develop companionships with companies, collectives and individual artists in the field of performing arts, with a strong focus on dance – cutting-edge artistic works characterized by their sense for cross-border creations and hybridization.
For the presented artists, arts and culture are means for emancipation et social relations. They work with diverse audiences, develop sustainable outreach activities and question paradigms defining our societies today and tomorrow.
Our collaborations feature highly contemporary and groundbreaking art forms, often including a symbiosis with fine arts, art film, design and media. Some cooperations are based on more than 20 years of trustful creative cooperation.
Collaboration, consolidation: the companies take advantage of our know-how and experiences gathered during almost 30 ans on an international level, with a deep knowledge of the cultural environment including theatres, festivals and companies.
From left to right : Dirk Korell, Leticia Martín, Naïs Haidar
Production, dissemination and touring, project development, cultural cooperation, curatorship, event conception, strategic advice, communication and professional training are some of the keywords describing our commitment.
The international dimension is our DNA. Our production crew is hailing from Germany, Catalonia and Spain, from Mayotte and Réunion Island in the Indian Ocean. The presented artists, with backgrounds in the diasporas, represent a rich cultural diversity, connecting various regions of the planet.  We are proud of international partnerships and cooperation networks. We have strong ties with the Netherlands, Germany and Sweden, Brazil, the Indian Ocean, Burking-Faso and Senegal, with the USA and also Vietnam.
The international starts locally: in Montpellier, its surroundings and more largely in the Occitanie region, we produce a social-cultural program, #JeSuis for locals and newcomers: in partnership with cultural institutions, the program is a space of encounter and sharing of artistic experiences, a tool for socialization, empowerment and critical debate. It involves an important number of unaccompanied minors in partnership with institutions and NGOs.
Regular artistic practice workshops and a component for exploring careers in the artistic and cultural sector offer new perspectives and the acquisition of self-confidence. #JeSuis includes many unaccompanied minors and young adults in cooperation with the Hérault Department's Child Welfare Services and NGOs, as well as refugees, especially through collaboration with the organization "Famille au Grand Cœur," which is made up of LGBTQ+ refugees.
Our partners – theatres, festivals, cultural institutions, government organizations – rely on our competency in the field of international cooperation. They benefit from our network including institutions and stakeholders in Europe and beyond: national and regional agencies, international networks.
With 50 host countries on all continents and 20 cultural cooperation programs we realized world-wide, we are building strong and intense collaborations, a growing network reaching diverse audiences and a great variety of diverse partners.
camin aktion is a long-term member of the IETM network, HipHop networks Occitanie (RHHOC) and REZO (national), and part of the production agencies networks ROBA (Occitanie) and The Alliance (worldwide).
The board of the association consists of Marie-Josée Cartier (chairwoman), Emmanuelle Echassoux (secretary) and Dorothea Kaiser-Wibaux (treasurer).
*camin aktion was inspired by Dirk Korell, after a fresh career as a producer at theatre MC93 (direction Ariel Goldenberg), followed by the first agency specialized in hiphop choreography – MOOV'N AKTION, co-directed with Yacine Amblard – including festival Danse HipHop Tanz.
Dirk Korell, (*1965 in Kassel/West Germany) received his university general studies diploma in Applied Theater Studies at the Justus-Liebig-Universität Gießen, with post-modern theater studies directed by Andrzej Wirth and Hans-Thies Lehmann. He migrated to France in 1988 and settled first in Paris, then in the popular northern outskirts, to continue his studies in theater at the University of Paris 8, Vincennes in Saint-Denis. He graduated from university in 1990.
From 1991 to 1999, after a professional foray into graphic design, he developed his career as a producer at national theatre MC93 Bobigny, accompanying major theater, opera, music and dance productions, working with artists such as Peter Sellars, Irina Brook, Jean-Francois Peyret, Robert Wilson, Philip Glass, Steve Reich, Lucinda Childs, Karole Armitage. He translates the contemporary adaptation of Aeschylus' The Persians by Robert Auletta and handles the surtitles of international productions.
At the same time, Dirk Korell is also a production assistant for the launch of the French-German cultural TV channel arte/La Sept. He cooperates with the Le Consortium collective in Bobigny for the production of the first festival dedicated to all forms of hiphop in France, XXL Performances from 1996 to 1998.
In 1997 in the county Seine-Saint-Denis, with his fellow Yacine Amblard, he co-founds MOOV'N AKTION, the first production office specialized in hiphop dance theatre. For 16 years, the agency develops productions and distribution, the international festival Dance HipHop Tanz in the suburbs of Paris, contributing to better recognition of suburban communities and hiphop culture by the subsidized cultural sector. Dirk is in charge of the development of numerous cultural cooperation programs in Europe, Africa, South America, the Caribbean area and Southeast Asia.
In 2009, he creates the production office/creative agency camin aktion, with a focus on dance, representing several international companies and artists. With his eclectic career between institutions and independence, associating popular art and academic culture, Dirk Korell is also a dramaturge, programming advisor and develops specific professional education related to production and international development. For camin aktion, he developed the #JeSuis program, for cultural and human mediation, aimed at migrant and local audiences, in Montpellier and the region.
He is an active member of several networks: HipHop network Occitanie, Network of creative agencies in Occitanie, the international production network Alliance and, since 2004, the European network IETM. where was part of the board of directors, then of the daily board from 2006 to 2011.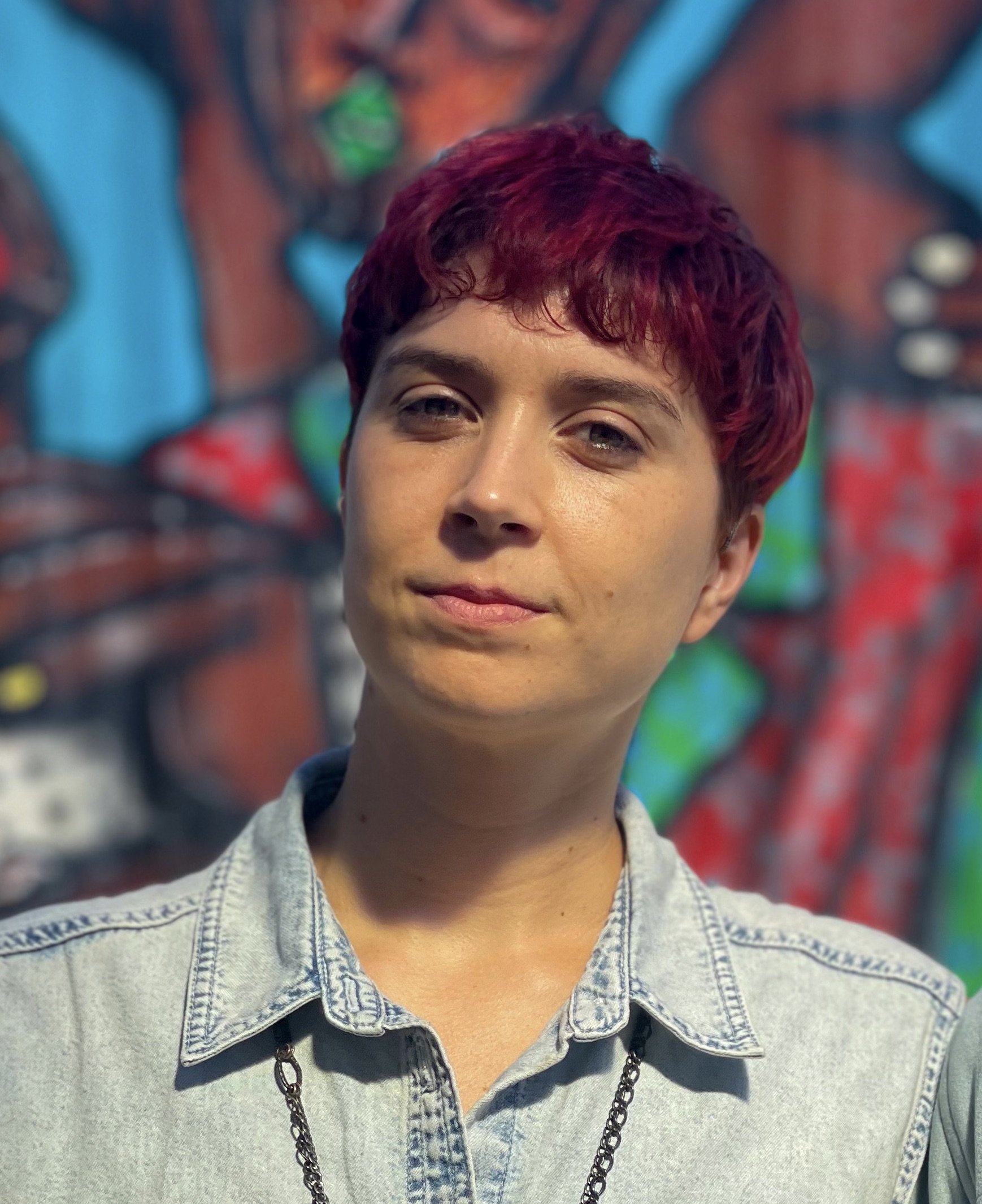 Leticia Martín (*1988 in Barcelona) has quite an eclectic background. Passionate about the art of storytelling, she obtaines her degree in Audiovisual Communication at the Pompeu Fabra University in Barcelona in 2010. After a short season in the advertising and audiovisual world, she turnes to the academics to follow a master's degree in research in Human Sciences in 2011 at the University of Girona. It was then that she began her career as a dancer, first with Lindy Hop and then with Vernacular Jazz (Jazz Roots).
Hired by the Department of Documentation of the Museum of Art in Girona, Leticia integrates a degree in History of Art, while continuing her training in Vernacular Jazz and making some incursions into contemporary dance. In 2014, she becomes a Lindy Hop teacher.
Motivated by her desire to continue to develop in dance, she moves to Montpellier in 2017, where she began to teach at the Montpeul' Swing School and to participate in national and international workshops.
In 2021, in order to approach the dance she practices from an academic angle, she enrolled in the Master 1 in Cultural Studies at Paul Valéry University in Montpellier.
Currently, she devotes her research to exploring and understanding the way Jazz dances are perceived in France, and their place within cultural policies.
As part of her Master 1, Leticia did an internship at camin aktion, of which she is now a part as a junior producer.
Today, Leticia divides her time between production projects (camin aktion, the European Swinging Network, Anduze Jazz Dance Camp), academic research and the practice of Vernacular Jazz.
Naïs Haidar, born in Mayotte in 1992, has lived a large part of his life on Reunion Island.
He enteres the world of dance in 2011 through bboying. During his degree in LEA (Applied Foreign Languages), thanks to a university education in contemporary dance at the University of Poitiers, he meets the choreographers Cecilia Bengolea & François Chaignaud in 2012 with whom he has his first stage experiences.
A few years after his studies, he moves to Tarbes in 2015, where he meets Bouziane Bouteldja, choreographer of hiphop dance company Dans6T (then accompanied by camin aktion), with whom he worked on several creations. He also joins the Pockemon Crew company. In 2019, he moves to the region of Paris and begins to work with the Carna company.
In 2020, after the pandemic, he decided to follow a professional training as a production manager at IESA Art and Culture in Paris. He did his end-of-study internship at camin aktion, then he joined the organization with regular contracts.
From now on, Naïs Haidar wears a cap of dancer-performer and junior producer.